The History of the Wearside League
Secretaries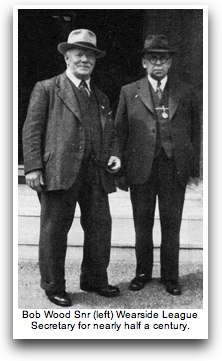 Father of the Wearside League, Charles Kirtley, remained secretary through the difficult early years right through to 1910, by which time the league was firmly established. Then for over half a century the post of secretary was in the capable hands of the Wood family: Bob and son Robert Junior. Even then, this did not reflect the true period of involvement of the Woods with the Wearside League.
In the early years of the League, Bob Snr. had been a player, referee, club representative and member of the management committee before becoming secretary. Bob Jnr., had served a 27 year apprenticeship as Assistant Secretary before taking over from his father. He then went on to become Chairman in 1963 and President in 1974, a post he was to remain at until 1984.
Bob Snr., played his early football with a number of different teams. He started his career with a junior club Roker Park, then going on to play for Havelock, White Star Juniors, Elm House, Eastern Star and Sunderland Swifts.
His days at Swifts brought him into contact with the Wearside League for the first time. In 1899-1900 season he was playing full back for another League club, Royal Rovers. In his first season the team finished runners-up to South Hylton. In 1900-01 Rovers won the League, Shipowners' Cup and Monkwearmouth Charity Cup and repeated the feat the following season. During Christmas 1902 Bob found himself out of work and he moved to Middlesbrough with a promise of a job. During a brief stay on Teesside he played one game for Middlesbrough "A" team but returned to Sunderland when he found work in the town. On his return he joined Wearside League club Southwick. At the end of the 1902-03 campaign Southwick tied with Royal Rovers for the championship, only for his former club to take the title after two deciding matches. After only six months with his new club Bob was appointed secretary.
In September 1904 the Sunderland Daily Echo reported "There is no better-known or more popular secretary and player - for he still dons the pants and jersey when it is necessary - than "Bobler" Wood."
Bob rose through the League management until 1910, when he was given the daunting task of filling the shoes of Charles Kirtley as Secretary of the Wearside League. He was not to disappoint those who had placed their faith in him, serving the League for the next 49 years.