The History of the Wearside League
1920s
The 1920s saw the rise of the colliery clubs who were to find great success in the Wearside League. R.Thompsons, however, were still a powerful force, having transferred back from munitions work to peace-time production.
At the end of the 1922-23 season, R. Thompsons made a storming finish earning 29 points from the last 16 games (a possible 32 points). The championship was decided on the last match of the season against Seaham Harbour, with both clubs level on points. Thompsons won 2-1 with almost the last kick of the match. Horden Athletic's 1-1 draw with West End the same night snatched the runners-up spot from Seaham Harbour.
R. Thompsons won the title again two years later, but this was to be their last Wearside League success.
The continued popularity of the League was seen in the number of candidates seeking admission. For the 1923-24 season Fatfield Albion and Hetton United were admitted but Hylton Colliery, Shotton Colliery, Washington Colliery, Wingate Constitutional and Hetton Royal Rovers were all turned down.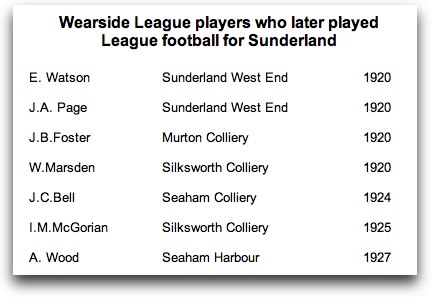 The mid-week Wearside League game between Hetton United and South wick on April 10th 1924 had to be abandoned owing to darkness.
At a League meeting at the end of the month it was decided it should stand as a completed fixture.
Therefore, Hetton was credited with a 2-1 win.
The club went on to win the League, but the points gained in the abandoned game were not crucial, as the runners-up finished nine points behind.