The History of the Wearside League
1910s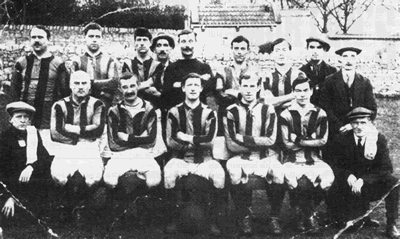 Whitburn's Wearside League team before the First World War. The club had won the title in 1896-97 season.
The outbreak of World War One did not bring an immediate halt to the Wearside League. Following the lead of the Football League the season continued to its scheduled close in 1915. Despite a record number of 686 registered players for the season, clubs were finding problems in wartime. Only eight of the original fourteen clubs completed their programme, with Southwick emerging as champions.
Even when the League was suspended for the duration, a "Friendly Group" was run. For the first season of this competition 369 players were registered (about half the usual number). Clubs still found problems in fulfilling their fixtures. Of the 12 that started the season, 4 clubs had to withdraw owing to players enlisting. Murton Colliery headed the table with 24 points. Local charities benefited to the extent of over £100.
The 1916-17 season was headed by R.Thompson's Munition Works after 8 of the original 10 clubs finished the course. Charity matches were arranged and various institutions again benefited to the tune of over £100. A special game was arranged in the Shipowners' Cup between Sunderland Rovers and a Wearside League XI, which raised £76. In 1917-18 season, R. Thompsons won the "Friendly Group" again, with clubs raising over £500 for charity.
The following season the Wearside League returned to its pre-war format. However, things had not fully returned to normal, R.Thompson Munition Works were the first champions and the armaments factory also took the Monkwearmouth Charity Cup.