The History of the Wearside League
Bob Wood Jnr.
When Bob Wood replaced his father as Wearside League Secretary in 1959, he was no stranger to the post. For most of his life he had helped his father with League business. At times, to save money, Bob used to deliver letters to the doors of referees, thus avoiding postage. This season Bob celebrates his 60th year in the Wearside League.
Bob had a distinguished career as a player, as a young right half he played for Murton CW in the Wearside League. For one mid-week game, he took a taxi from work at Hebburn to Murton. The Murton secretary was not amused when presented with a bill for the taxi fare of 7/6d for expenses.
After some impressive displays for Middlesbrough "A" team, Manager, Peter McWilliam wanted to sign Bob on full-time. When Bob Snr. heard of the Ayresome Park club's intentions, he told his son he could not turn professional. As Bob was serving an engineering apprenticeship at Reyrolles, Bob Snr. did not want his son to follow a precarious football profession. The wisdom of the decision was seen in the fact that Bob worked all his working life at Reyrolles, ending up as Works Manager.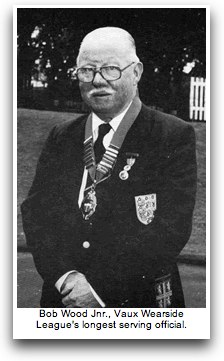 Bob continued to play amateur football, with among others, South Bank, Horden CW and Bishop Auckland. He played in an Amateur international trial and appeared for England against Allied Universities.
He set out on a ref ereeing career in his mid-twenties, advancing through the North Eastern League and Northern League. After spending a couple of seasons on the Football League linesmen's list he was promoted to the referee's list.
During the post-war period Bob was one of the most travelled referees in the League. The only games he could handle involving North East clubs were friendlies, practice matches and testimonials (including Len Shackleton's). Bob was in great demand to take charge of games all over the rest of the country.
Bob won many honours during his career, in 1956 he refereed the Football League v Irish League at St. James' Park. Although he took control of an FA Cup semi final, the Wembley final eluded him. This was not helped by the fact when at his peak Newcastle United reached the final three times in a five-year period, thus disqualifying him from the big occasion.
In stark contrast with today's era of mass dismissals and bookings, its hard to believe that Bob only sent off two players and cautioned six in a 25-year career.
In 1954-55 season Bob was bestowed with the highest honour his profession could give, when he was elected President of the Association of Football League Referees and Linesmen.
In the late-1950s Manager, Harry Potts asked Bob if he would do some scouting for Burnley Football Club. Bob accepted the offer much to the delight of all at Turf Moor. Among the players he discovered for the club was Ralph Coates, who was later transferred to Tottenham Hotspur for a huge fee.
Despite his various careers as; player, referee and scout, Bob still found time for the Wearside League. In fact, it would be fair to say no other man has devoted so much time to the League as Bob Wood Jnr. The only person to approach his contribution would be his father, Bob Snr.