The History of the Wearside League
1940s
The Wearside League in the 1930s was completely dominated by the colliery welfare teams. After the outbreak of the Second World War the League carried on until the end of the season and was then put into mothballs for the duration. The same applied to the three cup competitions.
Peace came just in time for the 1945-46 season to get underway. The League consisted of fourteen clubs: Sunderland "A", Shotton CW, Birtley Town, Seaham United, Dawdon CW, Easington CW, Doxford CDS, Felling Red Star, Wearmouth CW, Dawdon Mechanics, Usworth Colliery, Washington Chemical Works, Seaham CW and North Sands.
The first post-war champions were Birtley Town, with the League Cup going to Easington CW.
The Monkwearmouth Charity Cup was contested by two Wearside League clubs. Shotton CW ran out 3-1 winners over North Sands, with £116 going to charity.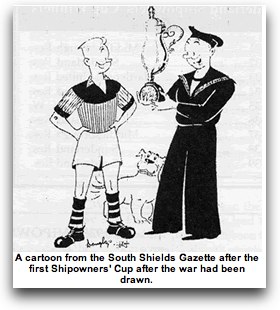 At the meeting of the Shipowners' Cup Committee at the Palatine Hotel on July 20th 1945 it was decided to revive the competition suspended since 1940. The Competition's beneficiary, the Boys' Orphanage, had been occupied by the military during the war (the boys having been evacuated to the country). It was reported to the committee that many of the boys who were there in 1939 had served their country well during the war. In April 1945 a new home for orphans was acquired at Moorhill. While the old Orphanage on the Town Moor had been primarily for orphans of Merchant Seamen, it was decided to consider applications of orphans from the armed services.
The 1946 Shipowners' Cup Final was played on 4th May at South Shields, between Sunderland Reserves and South Shields. A crowd of over 11,000 paid record receipts of £662 13s 6d (beating the previous best of £537).
The game ended in a 1-1 draw and for the only time in the competition's history the teams shared the trophy. After the match the Mayor of South Shields, Alderman Barber handed the cup to the captain of South Shields to keep for six months when it would be handed over to Sunderland. The Mayor also handed each player 15s (75p) Saving Certificates in lieu of medals.
At the end of the record-breaking 1945-46 season the total amount raised by the competition for the Orphanage had reached £7,294 6s 7d.