The Monkwearmouth Charity Cup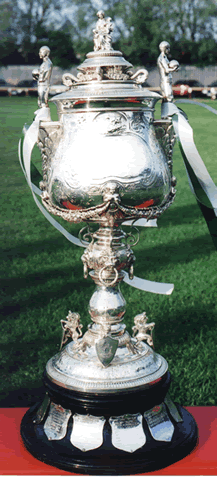 The Monkwearmouth Charity Cup, one of the oldest football trophies in the world.
Despite the Monkwearmouth Charity Cup having started three years before the Wearside League was born, by the close of the 1892-93 season, there had still only been one winning club. That season Sunderland "A" team lifted the trophy for the fourth successive year (a record never equalled). The trophy had been donated by Councillor Robert Thompson and money raised from the competition went to Monkwearmouth Hospital (in the days before the N.H.S.). To this day funds raised by the Monkwearmouth Charity Cup go to the hospital.
In the first year of the Wearside League its members set out to break the dominance of the Sunderland "A" team. In the first round Black Watch drew a crowd of 2,500 spectators for their match against Bishopwearmouth C.I. on the Town Moor. The home side ran out 4-1 winners.
In the same round Sunderland "A"s received a bye and then went on to beat Sunderland Swifts 6-0 in the next round.In the semi-final they beat West House, who had knocked out Black Watch in the previous round. Sunderland "A" team then met Southwick in the Final at Newcastle Road. Southwick had reached that stage with a walk-over and victories over Monkwearmouth and Ryhope Colliery. A crowd of about 1,500 greeted the Cup Finalists. The Sunderland Daily Echo's football correspondent was not impressed with Sunderland "A" team's attire. He reported "both teams were uproariously welcomed. They presented a striking contrast, the A's wearing a washed-out edition of the red and white striped shirts of the seniors, while the "Suddickers" sported blue shorts, and presented a workmanlike exterior." The Sunderland second-string proved too strong for the Wearside League side and ran out 3-1 winners, thus maintaining their 100 per cent record in the competition.
Winners 1911-12 Season - Houghton Rovers: