The History of the Wearside League
1893-4
The only change for the second season of the Wearside League was the replacement of Wearmouth Swifts by Silksworth. The championship was won by Monkwearmouth who went on to retain the title.
The second season of the League got off with a bang when defending champions Seaham Harbour met Sunderland Swifts. The game on September 23rd 1893 was played at Seaham and even at that stage of the season was seen as important.
Sunderland Swifts won the game 2-1 but it was not the football that made the headlines. Two days after the match the Sunderland Daily Echo reported:-

Matters were not helped by the fact that the Swifts secretary was Charles Kirtley who was also the secretary of the Wearside League. He quickly responded to the newspaper article, his letter to the Sunderland Daily Echo appeared two days later.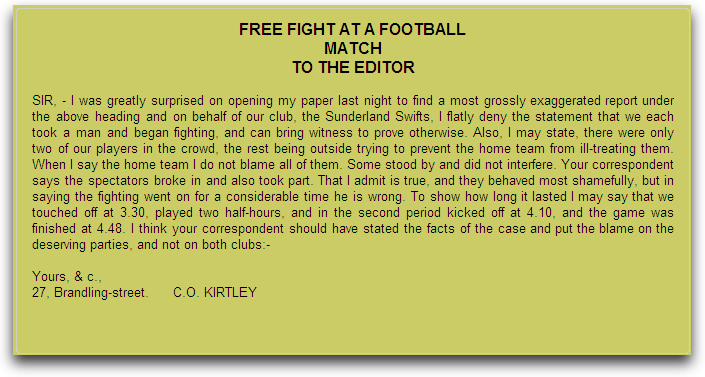 Football at the turn of the century was nothing if not competitive, and the game in the North East has always been played with passion and commitment. What happened at Seaham undoubtedly overstepped the line between what was acceptable and what was not. At the monthly meeting of the League; Milford, Price and Harris of Seaham Harbour and Lambert of Sunderland Swifts were suspended for 14 days for "misconduct upon the field."
Perhaps the reporter at the game also exaggerated things a little, certainly, Kirtley's version of events differed with those printed in the article.
For the 1894-95 season the League was extended to a dozen clubs, which included four new teams. One of these was Seaham Athletic, making up a trio of Seaham sides in the League.
Another of the new clubs was Egypt Rangers. Despite their distant-sounding name, the club was based in the New Hendon district of Sunderland. In the late nineteenth century this area was then known as"Little Egypt" because of the names of a number of streets off Villette Road. These included Cairo Street and Tel-El-Kebir Road.