The History of the Wearside League
Chairmen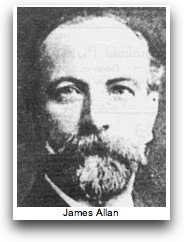 When James Allan was apponted chairman of the Wearside League at the turn of the century, they had in charge the man who brought football to Sunderland.
Born in Ayreshire, Allan studied at Glasgow University. He came to Wearside to take up a teaching post at Hendon Board School. Finding football was not played in the town he set about introducing the "dribbling" code, popular north of the border, to Sunderland. He organised a meeting with some of his colleagues in October 1879 from which the Sunderland and District Teachers' Association Football Club was formed. When the club was opened up to players outside the teaching profession the club became Sunderland AFC.
His involvement with the club in these early days included periods as: captain, secretary, committee man and treasurer.
It was while at this post that Allan took over the chairmanship of the Wearside League. Allan was also on the committees of the Monkwearmouth Charity Cup, Indepedent Committee of the Shipowners' Cup and the Schools' Swimming, Football and Sports Committees.